THE ETHNOLEAGUE STARTS IN WARSAW
11 September 2010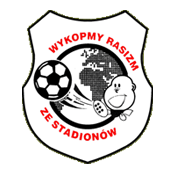 The 'Ethnoleague' started in Warsaw on 11 September. Twelve multicultural teams have participated in the football competition, including Africans, Vietnamese, Chechens and other nationalities living in Warsaw as well as a female team, a 'NEVER AGAIN' Association team and a team composed of Legia Warsaw fans.
The objective of the 'Ethnoleague' is integration of Warsaw's inhabitants of different backgrounds. The project includes a futsal league and a series of cultural events with the participation of migrants and refugees, fans, and journalists. Each team is the host of a week's round. They prepare a short presentation about themselves complete with music and food. The football games are accompanied by integration meetings, discussions on anti-racism In football, anti-discrimination trainings and the 'Let's Kick Racism Out Of the Stadiums' exhibition prepared by the 'NEVER AGAIN' Association.
- 'We aim to fight racism through the promotion of multiculturalism in sport' - said Krzysztof Jarymowicz and Jacek Purski, the Ethnoleague organizers. - 'We want a friendly atmosphere, which should also accompany the forthcoming EURO 2012'.
Piara Powar, the ex-director of Kick It Out and the current Executive Director of the FARE  network, met with the Ethnoleague participants and organizers in Warsaw this week. -'It is a fantastic initiative that can be a model for many other countries' – Said Piara Powar.
The weekly Ethnoleague events are going to last until 4 December. The participants have received football kits and special prizes funded by UEFA.
The tournament has been officially endorsed by the Mayor of the City of Warsaw and the Polish Government Plenipotentiary for Equal Status. The project has been co-funded by the Civic Initiatives' Fund and the Stefan Batory Foundation. The Office for Foreigners is a partner of the initiative. The main organizer of the Ethnoleague is the Foundation for Freedom and the 'NEVER AGAIN' Association is proud to be a co-organizer. 'NEVER AGAIN' leads the FARE East European Development Project supported by UEFA in the run-up to EURO 2012.
More information:
www.farenet.org
www.nigdywiecej.org