UKRAINE CALLING: AGAINST XENOPHOBIA AND RACISM
26 October 2010
A series of anti-racism events has been organized in Ukraine during the Football against Racism in Europe Action Week from 16 through 26 October 2010 – as the country prepares to co-host UEFA EURO 2012.
Some serious racist incidents occurred in Ukrainian football earlier this year. For example, FC Karpaty Lviv fans displayed a banner 'Turkish pigs get out of Europe!' during a Europa League game against Galatasaray Istanbul on 26 August. On 7 September, the extreme-right party Svoboda, together with racist fan groups, conducted a 1000-strong 'March for Ukrainian Football' before the international friendly Ukraine-Chile in Kiev, demanding a purge of foreign players from the Ukrainian clubs. A recent report by the Football against Prejudices group and the East Europe Monitoring Centre documents the wide-spread use of racist and far-right symbols on Ukrainian stadiums.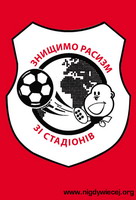 Against this backdrop, anti-racist activities took place across the large country, from Donetsk in the east to Lviv in the west. FARE events were organized in Kiev, Vinnitsa, Odessa, Kharkiv, Mukachevo (Trans-Carpathian region), and other places, too. They included special banners unfurled at league games, grass-roots multi-ethnic football tournaments involving migrants and refugees, and high-profile round table discussions prepared by FARE partners: the Eastern European Development Institute, the African Centre, NEEKA Foundation, Arsenal Kiev fans, and other groups. Several activities were launched and supported directly by the 'NEVER AGAIN' Association which coordinates the FARE East European Development Project.
'Both Poland and Ukraine have their problems with xenophobia, but there are reasons for optimism, too. We need to monitor hate crime and hate speech closely and develop further cooperation with the brave Ukrainian anti-racists, ethnic minorities as well as policy-makers and opinion-leaders' – said Dr Rafal Pankowski, the coordinator of the FARE Eastern European Development Project and the Warsaw-based East Europe Monitoring Centre, who attended the meetings in Lviv and Kiev.
'Ukraine is a country full of diversity. It is important to reflect itin its preparations towards EURO 2012. There are many nationalities, ethnic groups, cuisine, folk styles in this vast country and more than 45 thousand foreign students studying here. EURO 2012 is an occasion to celebrate the diversity' – said Dr Mridula Ghosh, the chair of the FARE partner organization Eastern European Development Institute (EEDI), who co-organized recent round tables on football and tolerance in Donetsk and Lviv, with the support of the Friedrich Ebert Foundation office In Ukraine and the State Committee for Nationalities and Religions of Ukraine.
'There is a long way to go, but racism cannot go unchallenged' – adds Charles Asante-Yeboa, president of the FARE partner African Centre, who organized a series of anti-racism matches during the FARE Action Week in numerous cities across Ukraine.
The 'NEVER AGAIN' Association is an independent monitoring organization established In Poland in 1996. It runs the 'Let's Kick Racism out of the Stadiums' campaign. Since 2009, the Asociation Has coordinated the FARE East European Development Project supported by UEFA in the lead up to EURO 2012 in Poland and Ukraine. 'NEVER AGAIN' has set up the East Europe Monitoring Centre documenting racism and xenophobia across the region.
More information:
www.farenet.org
www.eedi.org.ua